Storage tents
Industrial tents/storage tents/lightweight structures
Thinking of increasing your warehouse capacity on a long-term basis? Or do you only require more storage space temporarily? Then a storage tent is just what you need. The right type of storage tent, no matter whether it's insulated, has a tarpaulin covering or trapezoidal sheet cladding, a roller door or a sliding door - we can meet your requirements.
Our storage tents range in width from 5 to 30 meters in intervals of 2.5 meters. The length can be extended at will in intervals of 2.5 or 5 meters. They can withstand a snow load of 0.25 kN/m² to 3.5 kN/m², depending on roof span and side wall height.
Lightweight structures/industrial tents with tarpaulin cladding
Lightweight structures/industrial tents with trapezoidal sheet cladding
Insulated lightweight structures/industrial tents
Insulated lightweight structures with double tarpaulin-cladded roof and wall cladding of sandwich panels.
Tents for building sites and construction work
These tents are designed for use as canopies above excavation pits, or to protect workers against inclement weather.
Marquees for kitchens and canteens
Temporary solutions for large companies planning to convert or renovate their kitchens, canteens, or staff lounge areas.
Marquees for horse riding and lungeing rings
Our marquees for horse riding and lungeing rings are ideal for all those looking for flexible solutions. They can be erected quickly, are available in various sizes, and will make the dreams of riders and stable owners come true!
Special structures (emergency tents, medical treatment tents, waiting tents)
Tents for Corona treatment, first aid tents!
Emergency tents, medical treatment tents, waiting tents
To help cope with the current situation, we have tents on offer specially designed to
support medical staff
, above all for the following purposes:
Temporary emergency accommodation
Mobile temperature monitoring
First aid tents
Waiting and/or medical treatment tents
Various sizes and features
are available.
We'd be pleased to make you an offer tailored to your individual situation in terms of space available and requirements.
Feel free to contact us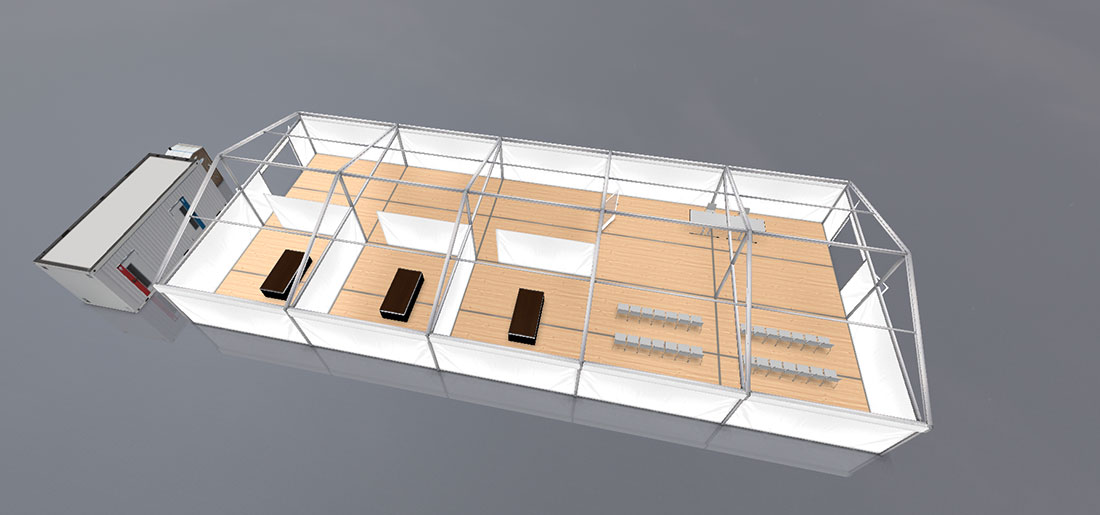 This is a photograph of a temporary tent at the Ilm Clinic in Pfaffenhofen that went into operation on 16 March 2020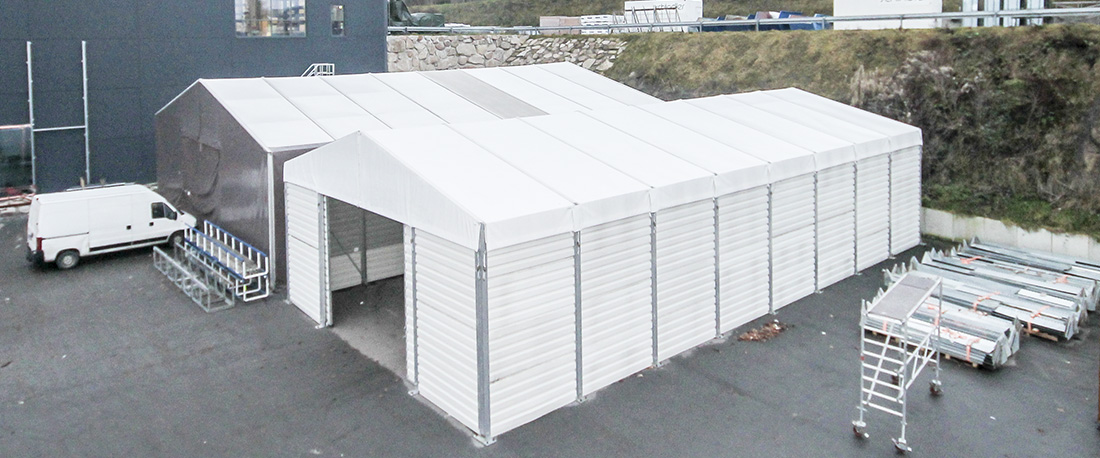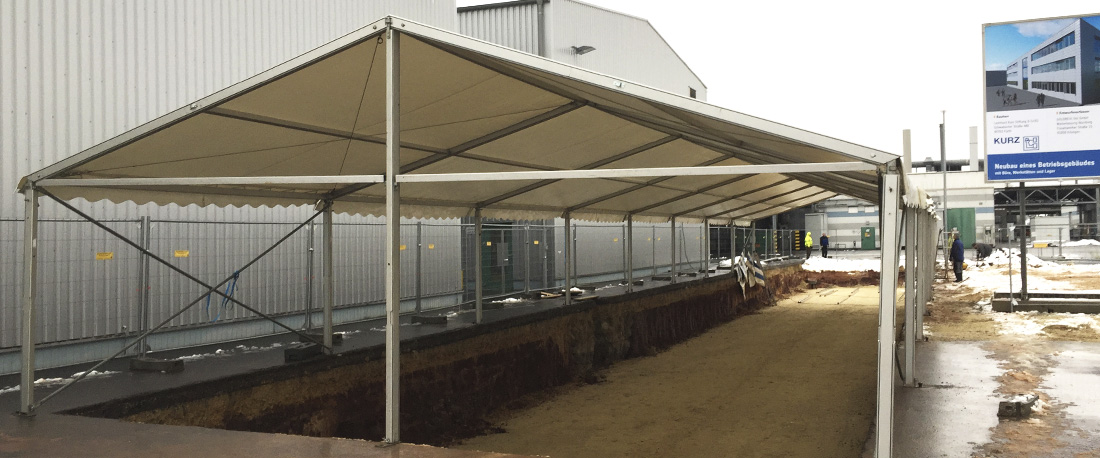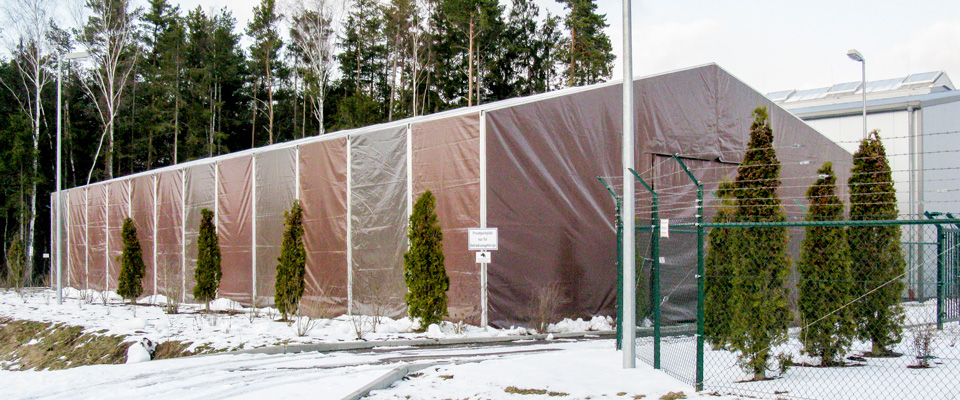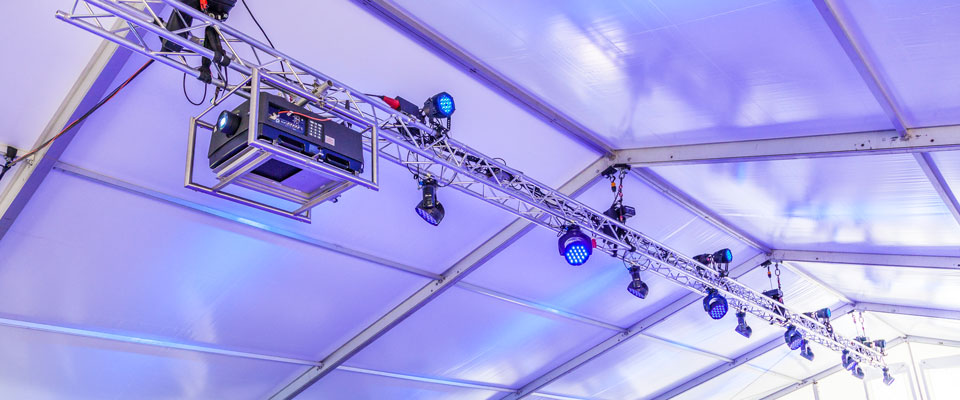 Feel free to contact us
Storage tent accessories
Your lightweight structures are available in many different varieties. Whether you want a tarpaulin entrance in the end or side wall, a sliding door or a roller door – anything's possible!
Decide between an entrance door, a walk-through door or a two-winged steel door, depending on your needs.
In addition, we'd be pleased to install interior tarpaulin to prevent condensation, individual lighting or heating.
Additional accessories available

here